Phosphorous Pentoxide
Phosphorous Pentoxide(P2O5)
CAS No. 1314-56-3
Molecular formula: P2O5 Molecular Weight: 141.94
Structural Formula: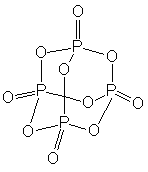 Properties:
White crystals, very deliquescent, density 0.9g/cm3,mp. 580-585C, sublimation temperature 300C, vapor pressure 133.3Pa (384C). May transform to amorphous from under elevated temperature and pressure. Readily absorbs moisture from. Exothermic hydrolysis by water to yield phosphoric acid.
Specification:
items
index
Chemically pure
Analytic pure
Food pure
Content%
99min
99.5min
99.5min
Live R Value
1.5mn
2min
2.5min
Reduced (P2O3)%
0.0max
0.008max
0.005max
Learity
confirmed
confirmed
confirmed
Water insoluble matter%
0.01max
0.005max
0.005max
Nitrogen(N)%
0.01max
0.002max
0.001max
Heavy metal(Pb)%
0.01max
0.002max
0.001max
Iron(Fe)%
0.01max
0.002max
0.001max
Arsenic(As)
0.01max
0.002max
0.001max
Usage:
In synthesis of phosphorus oxychloride, metaphosphoric acid; in manufacture of acrylate, surface active agent; in refining of drugs and sugar; as dehydrating agent, desiccant, antistatic agent; analytical reagent.
Package and Storage:
Iron drum 200kg per net.or confirmed by client.
Store in a cool, dry, well-ventilated area away from incompatible substances. Keep away from water, metals, alkali and flammable substances.
Keyword:
Phosphorous Pentoxide,Phosphorous Pentoxide(P2O5),1314-56-3